Confused about the lengthy 30 minute long DPH Medical Use of Marijuana Program Patient Survey? You are not alone. The Department of Public Health has invited adult patients to participate in a survey meant to explore patterns of use and perception of risk among medical patients in the Commonwealth to inform the safe use and implementation of marijuana legalization.
In typical DPH fashion, the survey is long and lengthy with a ton of written text making it difficult to for registered patients to complete.
Because of this MPAA will be gathering medical marijuana patients together for a survey taking party on March 21 in Boston. We will explore the reasons behind the survey, what the questions on the survey mean, and how you can easily participate in the survey to inform the safe roll out of marijuana legalization.
It wouldn't be a party without cake so that is a guarantee.  We will also have other prizes and surprises for patients that attend in usual MPAA fashion so this is not an event you will want to miss.
Special guests will be announced soon! Space is limited!
Tentative Agenda
4:00pm - 4:30pm Networking & cake
4:30pm - 5:30pm MMJ Program Survey Focus Group
5:30pm - 6:00pm Networking & more cake
RSVP on Eventbrite:  https://patientsurveyparty.eventbrite.com
Event FAQ
What is the Massachusetts Patient Advocacy Alliance?  Massachusetts Patient Advocacy Alliance represents the coalition of patients, providers and organizations that worked together to pass the ballot measure Question 3 in 2012 to legalize medical marijuana and establish a safely regulated medical marijuana program throughout the Commonwealth. MPAA is the primary stakeholder regarding the implementation of the Massachusetts medical marijuana program and we work with our base of over 15,000 supporters to impact safe access through educational endeavors and direct advocacy in cities and towns across MA. http://www.compassionforpatients.com/
Will there be medical marijuana at this event?  No. This is a non-consumption event. No medical marijuana is allowed to be consumed, exchanged, procured, or viewable by attendees of the event. Please focus on networking and making lasting relationships with other attendees.
Is this event open to the public? Yes this event is free to attend for anyone interested in learning about the medical marijuana program in Massachusetts and enjoy some networking.
Who Attends? We welcome everyone to attend interested in learning about cannabis as medicine, where to access medical marijuana, and how individuals and family members can help their loved ones access medical cannabis.
What are my transportation/parking options? There is parking garages surrounding the One Beacon Street area and also street parking. If you need to carpool let us know by contacting [email protected] The venue is easily accessible by public transportation via Park Street Station or Government Center Station.
Why should I attend? We encourage everyone to attend who is considering filling out the DPH survey on medical use of marijuana.
How can I get the most from this event? This is a combined educational and networking event so bring your business card or some other means to stay in contact with the people you meet.
Instagram / Twitter / Facebook Tips
One of the best ways to connect with fellow participants at our events is to use common hashtags when tweeting, facebooking, or instagramming about the event. Don't forget to take photos and share them with everyone using the hastags below. #MassPatients #RememberSafeAccess #SafeAccessNow #MMJFirst #MAPatients
About the Venue WeWork One Beacon Street
"Welcome to WeWork One Beacon Street—home to forward-thinking companies, fresh design, and vibrant community conveniently located in the heart of the Hub. Occupying the 14th and 15th floors of a 36-story tower, this prime Beacon Hill shared office space has it all. Here, brainstorming rooms are the birthplace of new product lines, networking events yield meaningful conversations, and business collaborators are around every corner. And the location is hard to beat. Onsite parking, bike storage, and access to the Blue, Red, and Green lines a block away make commuting a breeze no matter where you're coming from. What are you waiting for? Book a tour of WeWork One Beacon Street today to put your business ahead of the curve." - https://www.wework.com/

Legal Disclaimer
Views or opinions expressed by speakers or sponsors at our local Massachusetts Patient Advocacy Alliance (MPAA) educational events do not necessarily express the opinion or views of the MPAA organization or MPAA Foundation and we do not take responsibility for the views expressed or the actions of speakers or sponsors at our local events. The MPAA does not distribute or consume cannabis in any form at our events.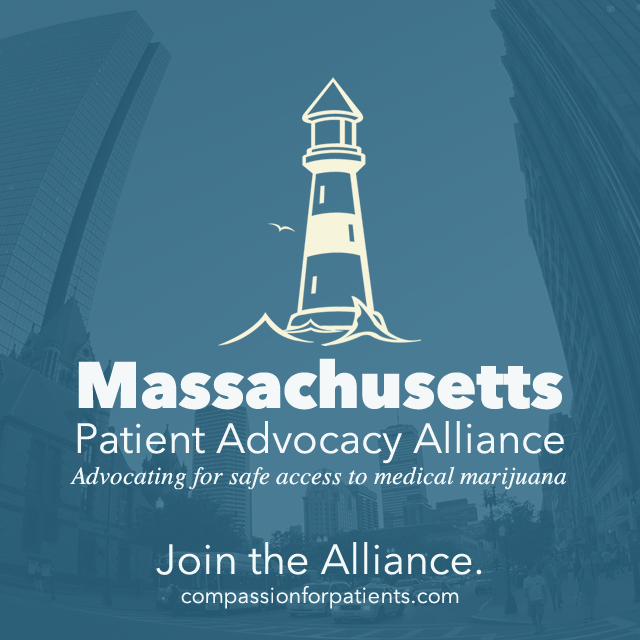 RSVP on Eventbrite:  https://patientsurveyparty.eventbrite.com
WHEN
March 30, 2018 at 4:00pm - 6pm
CONTACT
Nichole Snow · · 781-248-5792
TICKETS