Massachusetts Medical Marijuana Patient Symposium
We hope to bring together the entire patient community to engage in some social networking and to learn about the Massachusetts medical marijuana program, how to access care, what illnesses and symptoms are amenable to treatment and how best to use this medicine. Special emphasis will be placed on issues confronting aging individuals. Refreshments and a question and answer session included.

Don't forget to signup for the MPAA newsletter for the latest events and info. http://www.compassionforpatients.com/join

Featured Speakers
Nichole Snow
Executive Director of Massachusetts Patient Advocacy Alliance

Dr. Jordan Tishler
Founder of Inhale MD Health & Wellness

Jeremiah MacKinnon
MPAA Patient Advisory Board Member 

Monique Pichette
Marine, Nurse, and Founder of Nique-Wear

Michael Bourque
Engineer and Inventor of the CannaCloud Vaporizer

Stephen Mandile
Veterans Alternative Healing

Event Agenda
5:00pm Networking & Refreshments
5:20pm Nichole Snow & Jeremiah, MPAA
5:40pm Dr. Jordan Tishler, Inhale MD
6:10pm Monique Pichette
6:30pm Michael Bourque & Stephen Mandile
6:40pm Networking & Conclusion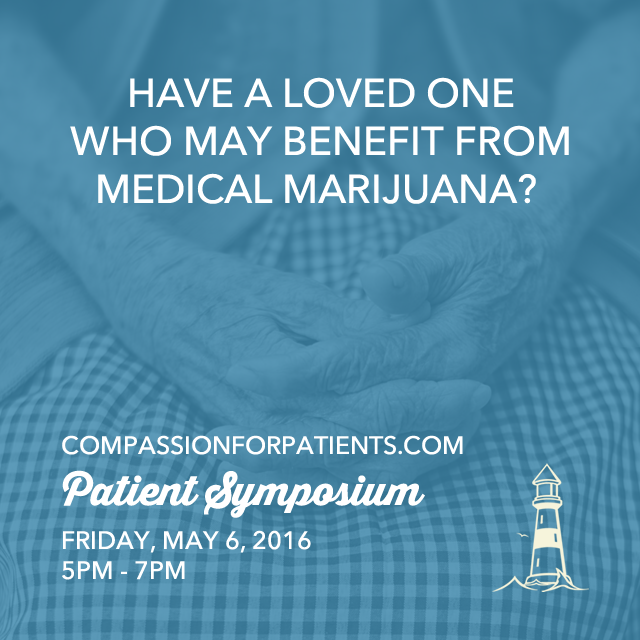 Event FAQ
What is the Massachusetts Patient Advocacy Alliance?
Massachusetts Patient Advocacy Alliance represents the coalition of patients, providers and organizations that worked together to pass the ballot measure Question 3 in 2012 to legalize medical marijuana and establish a safely regulated medical marijuana program throughout the Commonwealth. MPAA is the primary stakeholder regarding the implementation of the Massachusetts medical marijuana program and we work with our base of over 15,000 supporters to impact safe access through educational endeavors and direct advocacy in cities and towns across MA. http://www.compassionforpatients.com/ 

Is this event open to the public? Yes this event is free to attend for anyone interested in learning about the medical marijuana program in Massachusetts.

Who Attends? We welcome everyone to attend interested in learning about cannabis as medicine, where to access medical marijuana, and how individuals and family members can help their loved ones access medical cannabis. 

What are my transportation/parking options? We always recommend taking public transportation. Street parking is not guaranteed so please plan accordingly. For more options please go to Parkopedia for more information: http://en.parkopedia.com/parking/%3A_93_winchester_st_brookline_ma_02446/

Why should I attend? We encourage everyone to attend who thinks they might be a candidate for medical marijuana or their loved one might benefit from cannabis. Information is power and learning about medical cannabis and its benefits can lead to positive outcomes in many instances for patients suffering from a wide range of debilitating conditions. 

Want us to host a Patient Symposium near you?
We plan on having Patient Night once a month in various locations around Massachusetts. If you're interested in sponsoring this event or supporting future Patient Symposium events in different locations around the state, please email Nichole Snow at director@compassionforpatients.com

How can I get the most from this event? This is an informational event and one may want to bring some paper and pen or pencil to write down specific information shared by the presenters speaking. If you plan on networking you should bring a business card or some other way for attendees to contact you following the event. 

Instagram / Twitter / Facebook Tips
One of the best ways to connect with fellow participants at our events is to use common hashtags when tweeting, facebooking, or instagramming about the event. Don't forget to take photos and share them with everyone using the hastags below.
#MassPatients #RememberSafeAccess #SafeAccessNow #MMJFirst

Legal Disclaimer 
Views or opinions expressed by speakers or sponsors at our local Massachusetts Patient Advocacy Alliance (MPAA) educational events do not necessarily express the opinion or views of the MPAA organization or MPAA Foundation and we do not take responsibility for the views expressed or the actions of speakers or sponsors at our local events. The MPAA does not distribute cannabis in any form at our events.
WHEN
May 06, 2016 at 5pm - 7pm
CONTACT
Nichole Snow · · 781-248-5792